Gary, here's some pictures that Leola Bright, Sharon (Payne) Triplett and others have given to me. Wilford Lane.

Splatter Pool
Jimmy Webb is in left upper corner, Don't know who the girl is.

Gary, the girl in the splatter pool pic is Dotty Height (pronounced Hate), whose father was Capt. Height and mother was Carol Height. They lived across the street from me. Her mother taught swimming lessons at Oxanna pool. We used to ride the bus there. Capt. Height drove a convertible with the wood sides. They moved to Germany late forties or early fifties. I hope she will somehow find out about this website.
Jan Barker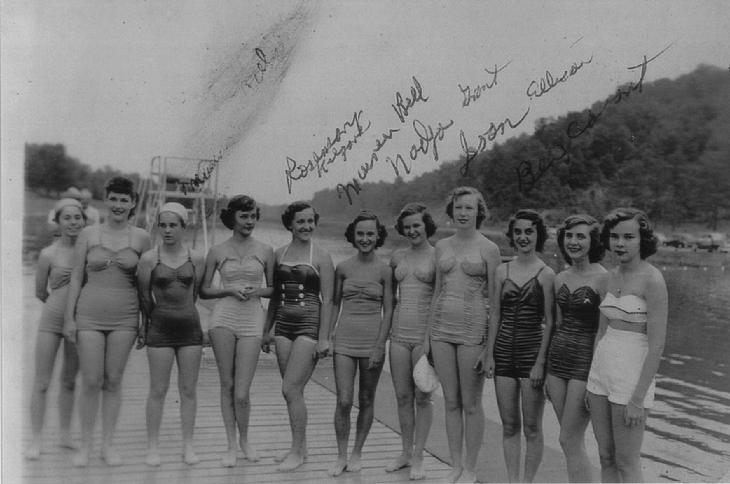 Bynum Lake
Bynum Lions Team
Ball Team by fence, standing left to right: Mr. Jesse "Bud" Young, Eric Cosper, Thomas Taliaferro, Gerald Kirby, Ferris Daniel, Wilford Lane, Paul Young, Mr. Art Taliaferro.
Kneeling Danny Miler, _____________?, Ronnie Baker, Johnny Owen, Niles
Janson
, Ross
Baerwald, Randy Crockett, _____________?
Wilford Lane
Bynum Lions Team
Ball team by bus= Back row left to right: Mr. ___________

Janson

, Mr. R.C McKendree, Colonel ______________Moon ?, Larry Payne, Jimmy Bragg, Tommy Langley, Donald Patmon, Bobby Forbus, Ed Owen, Boyd Payne.

Front row left to right: Donald Holmes, Joel McKay, H. B. Thompson, ____________?, Donnie Knight, Bruce Janson, _____________?, John Moon.
Wilford Lane




Photographs published by permission and courtesy of the children of Bynum and remain their property
© Copyright Bynum Kids 2009
Web Hosting powered by Network Solutions®